Mountain Woods
Establishment at 1 Tee Time Drive, Moncton, NB E1G 5M2, Canada. Please contact Mountain Woods using information below: address, phone, fax, email, opening hours, customer reviews, photos, directions and more.
Opening hours
| | |
| --- | --- |
| Monday | 10:00am — 04:00pm |
| Tuesday | 10:00am — 04:00pm |
| Wednesday | 10:00am — 04:00pm |
| Thursday | 10:00am — 04:00pm |
| Friday | 10:00am — 04:00pm |
X
Photos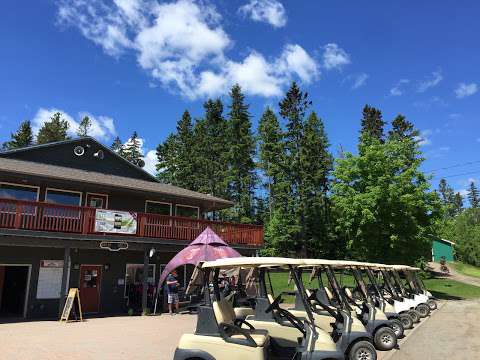 Reviews of Mountain Woods
Diane Williams Added 2018-11-03

★ ★ ★ ★ ★

The greens and fairways are at their best after a perfect mix of sun and moisture.

Will Johnston Added 2018-11-01

★ ★ ★ ★ ★

Great golf course. Interesting geography, some hills, fairways are wide. The staff is excellent. My regular golf course...

J. G. Added 2018-10-15

★ ★ ★ ☆ ☆

Unfortunately I will never play this course again. Not because the course wasn't nice, but because of how my wife and I were treated. The course is a very nice one. Each hole is memorable and has its own character. Lots of elevation changes, good traps and greens. The fairway was rough, but some of the holes are fairly new, and the dry summer has been tough on NB courses. Upon arrival I was told I could not be trusted to take the golf cart to my truck to load my clubs. That's fine if it's your policy, but I don't need to be told I can't be trusted to drive a golf cart. Worse though, after paying for our round we were told we were being paired up with another couple. Again that's fine, but my wife is new to golf and did not want to play with people she doesn't know. We asked if there was a tee time that was available that we could go out alone. The employee told me I should have known we were paired up when I booked online. I said it does not indicate that. He then argued with me that it does (I rechecked to make sure, and when using the Chrono golf app, it does not show how many slots are available at each tee time). He then began slamming things, sighing and muttering under his breath for the next five minutes while trying to refund one tee time. The starter realized and tried to make up for it but it was too little too late. I won't be back.

Brent Blackier Added 2018-08-29

★ ★ ☆ ☆ ☆

The course is in very poor shape. Fairways are dry and full of bare spots. Not worth the green fees. I was a member in the 90 when the course was maintained much better. I was very disappointed with the conditions. No money has gone into maintaining this course. Thus is a $30.00 green fee course not $43.00.